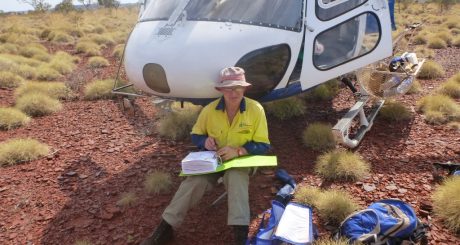 Newland Environmental Pty Ltd (ACN 141 233 463) is a Western Australian based environmental consultancy trading as Newland Environmental
Newland Environmental offers a range of services in the mining and exploration industries with specialist skills in all aspects of environmental approvals and permitting, mine closure and decommissioning, exploration and minesite rehabilitation, minesite design, environmental compliance auditing and due diligence, environmental monitoring, native vegetation clearing permits, works approvals and licenses to operate, environmental management plans, environmental impact statements, formal assessments under the Environmental Protection Act 1978, Government approval and regulatory consultation, stakeholder consultation, land access issue resolution, tenement management, new tenement applications, Native Title, resource assessment, advanced GIS mapping and figure preparation, and environmental graphic design.
Previously, flora and vegetation surveys were conducted under the trading name Pilbara Flora. Pilbara Flora has now been integrated into Newland Environmental with a range of specialist botanical skills being provided for the undertaking of flora and vegetation surveys in Northern Australia. The flora and vegetation surveys are designed to provide the information requirements for the submission of environmental approval documentation for exploration and mining developments.
Newland Environmental now operates in Southeast Asia as part of Earthborne Services (Cambodia) Co. Ltd with an office in Phnom Penh, Cambodia.
The Newland Environmental team consists of senior and experienced environmental scientists, ecologists, botanists, zoologists, surveyors, GIS mappers, geologists and mining engineers.
Typical Services Offered
Over the past 10 years, Newland Environmental has undertaken a variety of jobs in mining and exploration. Typical jobs have included:

Preparation of Mining Proposals.
Preparation of Mine Closure Plans.
Preparation of Exploration Programmes of Work, Bulk Samples and Excess Tonnage Application.
Preparation of Native Vegetation Clearing Permits.
Preparation of Annual Environmental Reports
Preparation of Annual Clearing Reports.
Calculation of Mining Rehabilitation Fund disturbance data (using ArcGIS) and lodgement with DMP.
Preparation of Works Approvals and Licences to Operate.
Preparation of Groundwater Exploration and Abstraction Licences.
Preparation of Borefield Management Strategies.
Preparation of Safety Management Systems including Project Management Plans.
Minesite Design (ArcGIS).
Preparation of Maps and Figures (ArcGIS).
Aerial Photography, Contour Modelling, Monitoring and Mapping using Unmanned Aerial Vehicles.
Precision Surveying using Differential GPS.
Graphic Design (Mining and Environmental).
Site Investigations (ArcGIS) – Resource, Environmental, Heritage, Tenement.
Tenement Application (Marking-out and Lodgement).
Online Mining Tenement Management (Mineral Titles Online).
Mineralisation Statements and Geological Reports.
Flora and Vegetation Surveys.
Fauna Surveys and Habitat Assessments.
Landscape Mapping and Impact Assessment.
Environmental Auditing and Due Diligence.
Specialist Land Access and Regulatory Assessments.
Targeted Ecological Site Assessments.
Minesite and Exploration Rehabilitation.
Pastoral Station Environmental Management.
Rehabilitation Monitoring.
Weed Management and Training Programs.
Clients
Jobs have ranged from small task-based undertakings such as assisting a prospector in completing a Government application to major projects involving the vegetation survey of a massive Kimberley development using multiple field teams over a three year period.
A team is assembled from the Newland Environmental personnel and associates in response to the demands of each new job. Most clients are long term, using Newland Environmental on a continuing or returning basis as jobs arise.
The client base has included the following companies and people:
Able Plant Hire
Aerosafe Risk Management
Anthropos Australis
API Management
Australian Quarantine and Inspection Service
Auvex Resource
Avanco Resources
BHP Billiton Iron Ore
BJ Young Earthmoving
Cairns Marble
Carnarvon Hardrock Limestone Quarry
Capeview
Dann White Mining
Department of Agriculture
George Todd
Gerrard Environmental Contracting
Global Exploration
Greenhead Sands
Hancock Prospecting
Jacobs
Karratha Greenstone
Lake Goorly Contracting
Lionore Australia
Magellan Metals
Magnesium Resources
MBS Environmental
Mesa Minerals
Mikurra
Mt Regal Mining
OM Manganese
Onslow Resources
Outback Ecology
Peak Green Mining
Pearl Global
Piacentini and Son
Pilbara Stone
Pippingarra Holdings
Process Minerals International
Quarry Park
Rapallo
Reed Resources
Regional Resources
Rey Resources
Rio Tinto Iron Ore
Rocla Resources
Roy Hill
SR Martin
Strategen
Town Port Hedland
TremJones
Wedgetail Exploration
Western Mulga
Westhaul Transport Services
Winmar Resources
Wormall Carnarvon
Yarra Sand
Yarri Mining